Are you ready for Get Real St. Louis?

The Future is NOW and we couldn't be more excited to be heading back to the beautiful arched city, St. Louis! 
Make sure you are there when we bring Get Real to the Edward Jones Dome with an even bigger Get Real conference!
Why You Should Be in St. Louis:
Receive invaluable training from the Nerium Leadership Team and top income earners

Be the first to hear exciting announcements

Hear firsthand how to maximize new product offerings

Experience the Nerium culture

Learn from top motivational speakers and field leaders

Be recognized on an international scale

Create new friendships and bond with team members

Learn how to take hold of your future and drive toward success!
All tickets can be purchased from our Get Real registration website. All purchased tickets must be assigned by Monday, March 28, 2016.
*Prices subject to increase prior to event. Please note this event may reach capacity, so we suggest purchasing your ticket in advance.

MORE DETAILS  REGISTER  BOOK YOUR HOTEL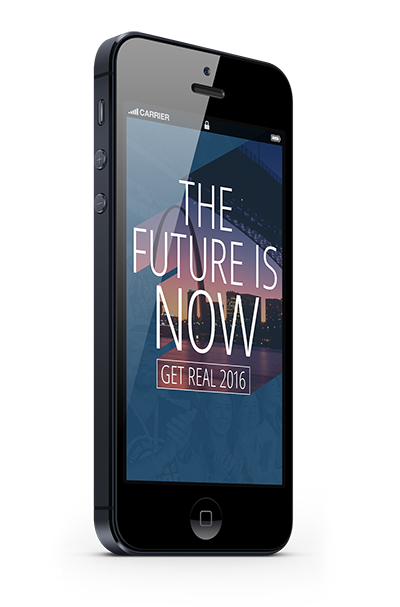 Download Get Real 2016 St. Louis Mobile App Today
 You can find the latest news, exclusive material, documents, and more through our Get Real Mobile App. Click the images below to download Nerium's Get Real 2016 St. Louis App for iOS and Android devices.


Once the app is downloaded, you can find language options by clicking the menu tool at the top left, clicking "Event Guide" and swiping left until you find your country's flag.
If the app is already installed on your device, you can update it in the menu by clicking "All Events" and selecting Get Real Dallas . Your app will then update to the Get Real St. Louis 2016 conference.
The app can also be accessed on Windows phones, Blackberry devices, and desktop computers, where you will be directed to the app's web-based version.
Learn everything you need about this incredible event by downloading the Get Real 2016 St. Louis app – and prepare for the time of your life!
"OUTSTANDING! Speakers right on their topic. Could have flown home just on the enthusiasm generated! Have been in "relationship marketing" several times over the years but never have I witnessed anything like the training and opportunity with this. I am restart right now even being a new BP. I didn't know what I didn't know! Thank you so much for creating this opportunity!"

− Beverly Duff
"#GR15 was awesome! I thought it would be good and help jump start me again. I had no idea how wonderful it would be! I laughed, cried and I learned so much valuable information from the best people in the world!! I've been to many conferences, but never trained and pumped up with knowledge like I got at Dallas! My thanks to everyone involved for the best time of my life! I met people from other countries, made new friends for life. WOW! I even got even got sang to by our awesome leader, thank you Jeff Olson for a wonderful white party!! You are the light in the dark for all of us! Thank you for putting your heart into Nerium and giving us a chance to succeed."

− JoAnn Chastain
"I am amazed at how smoothly all aspects happened. Onstage presentations were phenomenal. I was glued to my seat the whole time. Transportation coordination was beyond belief. AWESOME EVENT NERIUM ! I am so proud to be a member of the Nerium Family."

− Julie Lazaro
"I appreciate the efforts of everyone involved in these events. I cannot even imagine the time it takes to plan and put on these amazing conferences. I feel so blessed to attend and take in so many nuggets to help me be successful. And I always go home feeling so loved, believed in and supported!"

− Holly Johnson
"I couldn't make it to Dallas, but the livestream was AH...Mazing!! I had so many AHA moments, and I cried so many tears. I learned so much more than I thought I would. Thank you, thank you, thank you for allowing those of us who could not be there the same tools and information to build our business. Nerium always delivers, no matter what the promise is."

− Heidi Krause
"Unbelievable energy, excellent line up of speakers, the LEARNING, camaraderie and free flowing Nerium love (hugs). Thank you - sincerely, THANK YOU! Not just for my business, but to spread HAPPINESS, and smiles all over the world - thank you!"

− Leslie Heitz